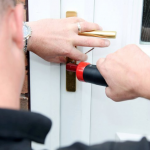 Getting locked out of your home or losing your car keys is a miserable experience. It could happen to anyone of us at any time day or night. For instance you may lose your car keys in the rush to catch a last minute flight, attend an emergency meeting in the office and misplace your home keys or as fate would have it, someone may have pulled a fast one on you and escaped with all your belongings to include your keys. You curse your fate and wish you came across a locksmith in west Dublin.
Get a Free Quote
Contact Us
Well, help is just a phone call away. Professional locksmiths all throughout west of Dublin and all areas are now available, 24 x 7 and a well-trained, expert locksmith would be present in under 30 minutes at your home or business. We offer all kinds of locksmith services that include residential, commercial and auto locksmith services.
Locksmiths Services
Our services range from Master Key Systems to Burglary Repairs to Emergency Lockouts to Car Re-entry to Home Re-entry to lock cylinder changes and so on. Some Locksmiths make promises that they cannot provide we can and will offer all the guaranties. Never stay locked out again. Help is at arm's length and all you need to do is a mere phone call to a company in west Dublin or throughout all Dublin areas.
West Dublin Locksmiths
The guys in Locksmiths 24/7 are such a delight to work with. They have vans located all across Dublin to attend any of our many Texaco garages. It's great for a general manager to have the confidence in a contracted company for peace of mind.
Written by: Jim in West Dublin
Locksmiths West Dublin
10 / 10 stars
Local Locksmiths
✓ 24/7 Emergency
✓ Flat Rates Per Job
✓ Free Call Outs
✓ No Disruption
✓ No Hidden Fees