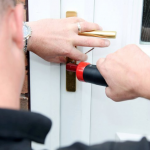 Or Locksmith in Naas is your ultimate locksmith service provider for cars, home, trucks, motorbikes and heavy commercials. We provide unmatched services that include lock replacement, controlled high security systems, business and commercial safes, keyed alike systems, home safes, home opening services, in addition to supplying and fitting all of locks among many more other locksmith services. Throughout the Naas area, we take pride in offering the following categories of locksmith services.
Get a Free Quote
Ask a Question
Domestic Locksmiths Naas
Take advantage of our emergency domestic locksmiths, who are always on call, to deal with your lockouts, break in repairs, and lock repairs and any other type of domestic security requirements regardless of whether it is planned or emergency. To secure your home, you definitely want to contract a certified, skilled and experienced company with passionate and professional consultants who not only know the industry but also offer practical, effective and affordable solutions. The only company that meets all these in Ireland is none other than our Locksmith Naas.
Auto Locksmiths Naas
With our 24 hour standby emergency auto locksmiths, rest assured that your call will be attended to with the utmost urgency. Give us a call for replacement of you lost car keys, damaged car repair or vehicle unlocking services and our competent technician will come to your rescue in the shortest time possible. If you purchase a car with only one set of key, keep in touch with our expert locksmiths and have an extra set created for you.
Additionally, we can make sure that only the keys in your custody can be used-we remove all others from your motor vehicle's database ensuring that no one else uses the same to start your car.
Commercial Locksmiths Naas
With our unmatched expertise in the locksmith field, we are able to unlock or replace virtually all types of locks at your business establishment. We also offer all round the clock emergency installation, servicing and repair of all access controls, deadlocks, keyless entry, electronic safes as well as biometric systems. We provide a vulnerability assessment of your business premise and offer a wide range of up to the minute solutions making it more secure.
With a vast experience in the industry, our Locksmith Naas is more than qualified and ever ready to offer you the most appropriate, tried and tested and affordable security solutions, be it for auto, domestic or commercial purposes. Our mission is to provide friendly and effective locksmith services to all our clients.
Locksmith in Naas
Ken from Locksmiths 24/7 came to my rescue! I was stranded in the car park in Naas. I had managed to lock my car keys in the boot of my car. Lucky enough I had my phone in my hand because I gave Locksmiths 24/7 a call and Ken was out to me within 30 minutes. Job Done!
Written by: Jen in Naas
Locksmith in Naas
10 / 10 stars
Locksmith Naas
✓ 24/7 Emergency
✓ Flat Rates Per Job
✓ Free Call Outs
✓ No Disruption
✓ No Hidden Fees