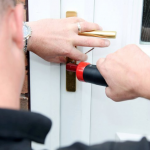 Great things in life come at a price. Cheap locksmiths will make promises but won't solve your car key and lock problems properly. Losing your keys or having problems with your locks is not something you plan for. Majority of us end up looking for unscrupulous cheap locksmiths and the results are usually disastrous. We end having to dig deeper in our pockets in order to rectify the problem. In East Dublin locksmiths, auto locksmiths, car keys, auto key, we offer all your locksmith solutions. We have the following qualities after all locksmiths don't just break locks.
Get a Free Quote
Contact Us
We handle all types of locks
Any good locksmith will try to help you out, but the best will sort out your problem. We handle all types of locks and keys. We have the best training and experience; you can be assured that you are in safe hands. Don't just try any locksmith company try us and watch your problem go away. Don't just let your lock problems escalate call our professional and you will be in safe hands?
We are licensed and insured
Having licensed personnel handle all your lock needs assures you of a money back job. Using an unlicensed locksmith could lead to your insurance company denying your claim. Messing with locks could lead to disastrous results. For example, if your car locks have been tampered with previously could lead to refusal of liability by your insurance.
We are experienced
Years of experience have helped us perfect the skills any locksmith would die for. We guarantee you that we will have your lock issues cleared up. Key replication, unlocking locks and repairing your is an easy job. As a resident, you shouldn't look any further for an experienced locksmith contractor.
East Dublin Locksmiths
The guys in Locksmiths 24/7 are such a delight to work with. They have vans located all across Dublin to attend any of our many Texaco garages. It's great for a general manager to have the confidence in a contracted company for peace of mind.
Written by: Jim in East Dublin
Locksmiths East Dublin
10 / 10 stars
Local Locksmiths
✓ 24/7 Emergency
✓ Flat Rates Per Job
✓ Free Call Outs
✓ No Disruption
✓ No Hidden Fees