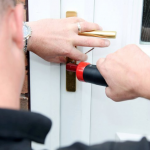 Many people wonder how the doors in commercial places such as hospitals, plaza, and offices close by themselves. Well, there is a mechanical device called a door closer that is used in doors in most public places. This enables the door to close automatically once it is opened, which means that the movement of the door is controlled. There's a spring and a piston inside the door closer, which exerts the pressure to close the door automatically and also determines the speed with which the door closes.
Get a Free Quote
Contact Us
We handle all types of locks
There are two main types of door closers. These are manual and automatic door closers. The manual door closer has an oil-filled hydraulic damper, which controls the speed with which the door closes. A door is opened with the push of a hand and closes on its own with the help of the manual door closer. An automatic door closer opens or closes the door automatically with the help of a push button and a motion detector, these are reachable even by wheelchair users. There are different types of designs as well as styles of door closers.
The most common styles of door closers are concealed door closers and surface mounted closers. Commercial door closers not only provide security and convenience, but they also close the door according to the set speed in order to avoid the door banging sound. It's important to use the services of a locksmith for the proper installation and maintenance of commercial door closers. This guarantees reliability and durability.
We are experienced
Years of experience have helped us perfect the skills any locksmith would die for. We guarantee you that we will have your lock issues cleared up. Key replication, unlocking locks and repairing your is an easy job. As a resident, you shouldn't look any further for an experienced locksmith contractor.
Commercial Door Closers Locksmiths
The guys in Locksmiths 24/7 are such a delight to work with. They have vans located all across Dublin to attend any of our many Texaco garages. It's great for a general manager to have the confidence in a contracted company for peace of mind.
Written by: Terry in Commercial Door Closers
Locksmiths Commercial Door Closers
10 / 10 stars
Local Locksmiths
✓ 24/7 Emergency
✓ Flat Rates Per Job
✓ Free Call Outs
✓ No Disruption
✓ No Hidden Fees